Are you travelling to Iceland on a budget? Well don't worry, I'm here to help you. Iceland is known for being an expensive country to travel around and a common question that is asked, 'Is Iceland expensive?'
But I'm going to offer you a few hints and tips for reducing your costs and travelling to Iceland on a budget.
Although food, accommodation and transport prices in Iceland can be expensive. And even more so if you don't book in advance.
The best things about Iceland, the stunning landscapes, numerous hiking trails, the beautiful waterfalls and geysers are all FREE.
Iceland is the most beautiful country I've ever travelled too.
If you don't already follow me on Instagram check out my collection of gorgeous photos here and you can see what I mean. Here are a few ideas I did on my trip to Iceland to help save some money whilst travelling on a budget.
Click here to save £25 off your first stay at Airbnb
*Becky the Traveller participates in the Amazon Services Associates Programme, as well as other affiliate programmes. If you make a purchase through these, I earn from the qualifying links. This is at no extra cost to you. Read more here.
Top Tips on How to Enjoy Iceland on a Budget?
1. Hire a Campervan for your Trip
Of course, there's still a big payment upfront. But remember the campervan becomes your home and transport for the duration of your trip.
Plan your Iceland budget before you go and whilst you are there you will save costs on accommodation, food and expensive tours.
Read about my campervan experience here.
2. Bring Food from Home
This depends on what your weight allowance is for your luggage. But packing a few essential items can save you money whilst you are travelling in Iceland.
Now I'm not suggesting that you fill your suitcases and rucksack with food! Just a few staple ingredients that will keep you going on long journeys.
Read my Summer Iceland Packing list for everything (including the food I packed).
3. Budget transport – Try hitchhiking

Did you know Iceland was rated the safest country in the world? If you've never tried hitchhiking then maybe here's the place for you to try. The Ring Road does have a steady flow of traffic, although be ready to wait sometimes.
During my Ring Road trip, I picked up a couple of hitchhikers. And karma returned its favour when I missed the airport bus at midnight and had a lift from a local Icelandic woman within 5 minutes!
How to get the best travel deals?
Buy How To Get The Best Travel Deals from Amazon for more ideas on how to save money when you travel.
4. Shop at Bonus supermarket
'Bonus' is one of Iceland's cheapest supermarkets. It's the one with the big pink pig so you can't miss it! Stock up here for your food whilst you are in Iceland.
If you've hired a car or campervan then make sure you have in the budget to buy plenty of food. This also gives you the freedom to drive and stop when you want, without your tummy rumbling.
Read next: Tight budget? 7 ways to travel on a budget
5. Iceland on a budget – Pack up lunch for the day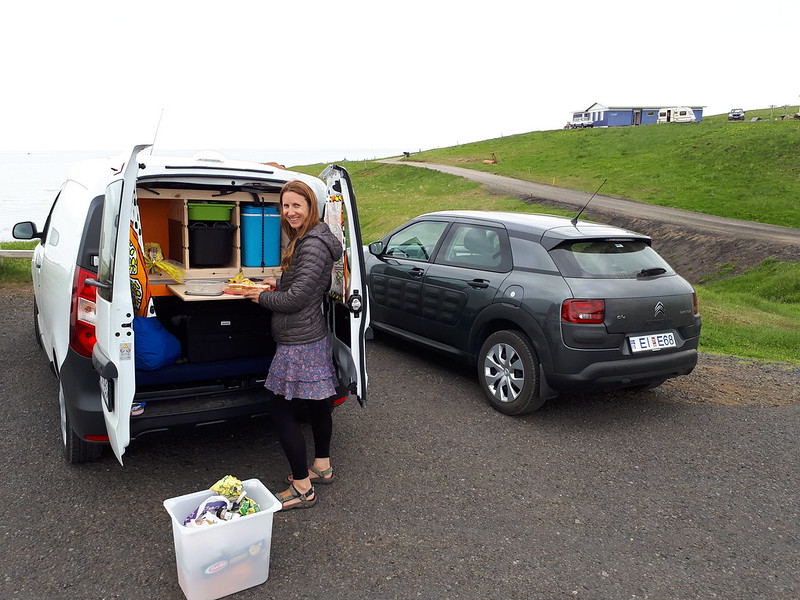 There are plenty of little cafés and restaurants in the South of Iceland. However, these can be a little expensive. Yes, you're on holiday so treat yourself even now and again.
But if you take a mini pack up for the day you hopefully won't need to spend as much money. (See tip 4 for where to shop!)
6. Visit all the FREE Tourist Spots
And you won't be disappointed. The majority of Iceland's tourist spots are completely FREE. No park administration charge, no parking costs. It's all there for you to enjoy and spend as long as you want there.
The exceptions on my trip were:
And that was it, in 12 days they were the only costs I paid at tourist stops. It's pretty amazing when you think about it and great if you're trying to keep to a strict budget during your time in Iceland!
Thanks Iceland you are awesome!
7. Book the FREE Tours In Reykjavík
I spent my last day in Reykjavík and by this stage, most of my budget was gone. It might have had something to do with the fact I was caught speeding boo hoo and had to pay a fine. (See tip number 12).
There's plenty of exploring to do for free on your own. But if you want to learn a little too then check out the FREE city walking tours.
The idea behind these tours is that you meet at a central point and go on a 2-hour tour of the city. If at the end of the tour you had a fantastic experience then you simply TIP the guide.
Of course, nothing is ever free but if you're on a budget in Iceland this is a great option for you.
Read next: Free things to do in Reykjavik
8. Puffin tours versus seeing them for free
Puffins arrive in Iceland in May and leave mid-August. The options to see them depends on your timescales and mode of transport. But if you're driving the Ring road.
Be sure to check out other places you can see the puffins in Iceland before you pay out for a tour.
9. Find a friend to travel to Iceland
Many people rent a campervan or vehicle for their Iceland trip. But what if you're a solo traveller? Fuel and rental costs can be expensive.
If you can't persuade any of your friends to join you. (They are mad because Iceland is beautiful). Then you can always put out a few requests on Facebook groups to see who else wants to do Iceland on a budget.
10. Blue lagoon – tips if you decide to go
Firstly, please be aware that this is expensive. But if you really want to go then make sure you book in advance. I didn't do this and ended up paying more for what was already an expensive activity.
Yes, you can say it, I'm an idiot, I know!!
Secondly, if you do want to go and you're on a budget remember to take your own towel. Saves you having to pay for one. I would recommend a quick-dry microfibre on if you're travelling in your own vehicle so that it dries quicker.
11. Or Skip the Blue Lagoon for a cheaper option
As I mentioned the Blue lagoon is expensive but there are other options if you are travelling to Iceland on a budget. Including some hot springs that are FREE! (If you can find them first).
In the north of Iceland, you can visit another natural bath – Myvatn Nature Baths. Although I didn't visit them myself I've heard great things about them. And had I not already visited the Blue lagoon I definitely would have stopped by for a quick dip!
Read next: Planning a trip to Iceland? – What you need to know (before you go)!
12. Know the road laws
If you're renting your own vehicle in Iceland (money-saving tip number 1). Please make sure you know the road laws including speed limits. I will be honest, I knew what the speed limit was.
However, 10 minutes from my campsite at 10 pm I put my foot down a little too much.
Flashing lights followed about 2 minutes later! Anyway a big fine and nearly an hour later I was pretty grumpy. But all mine own fault. So I'm just passing along my 'what not to do advice'.
13. Bring your own water bottle
Firstly, this reduces the number of plastic bottles. That's always a bonus for the environment.
But Iceland's water is the cleanest and freshest water I've ever tasted. I even drank it straight from the glacier on my Glacier Walk! If you're travelling Iceland on a budget this is an easy money-saving tip.
So save yourself buying water and fill up from the tap.
14. And for hot drinks bring your own flask
I made myself a peppermint tea each morning and filled my Sigg Hot & Cold flask. So I had a hot drink for the day. If you're camping or staying in a hotel/guesthouse then you should have access to a kettle.
Top money-saving tip
Just remember to bring your tea bags or coffee from home to save even more pennies!
15. Iceland on a budget = stop drinking Alcohol (Or reduce)
Sorry I know you're on holiday but I'm just putting it out there! Alcohol is really expensive in Iceland.
If you like your drinks be prepared to pay above the odds. One way to save here is to buy it from the duty-free at the airport when you arrive.
Or option 2 is don't drink. There's so much to do in Iceland you really need a clear head to fit everything in. And if you're driving it's, of course, better not to drink and drive.
Money Versus Iceland Memories!
I hope that's given you some useful money-saving tips for travelling in Iceland on a budget. I had such an amazing time and following these tips I didn't spend as much money as I thought. I will be sharing my full budget soon so keep following if you want to know my costs.
And most importantly remember although money is essential. It's the Iceland memories and experiences you'll be talking about for years to come. Have an amazing trip.
Are you travelling to Iceland on a budget? Tell me about any more money-saving ideas in the comments below or message me on Facebook:
Read more about Iceland here
Useful books for your Iceland trip*
Save me to your Iceland Pinterest boards