Travel Resources – (Recommendations & Useful Links)
On this page, you will find links to websites and tools that I find useful for planning my travels. There are my top tips on booking hotels, flights, tours, travel insurance and all those holiday essentials for your next trip. I have also shared a few of my favourite recommendations for tours, accommodation and products that I would happily recommend to a friend or indeed anyone reading my website.
Sometimes booking a trip can be quite overwhelming there are so many things to remember. This is another way I can share my favourites with fellow travellers to help you on your journey.
And lastly, I have a new page for Travel Bloggers resources (including how to start a blog) with some discounts and special offers.
[toc]
Top Travel Resources + Tips
Where to stay? – Accommodation
Looking to book somewhere to stay on your trip. Read my reviews for different places that I've stayed on my travels or you can use some of my favourite accommodation booking websites.
Booking.com


Booking.com offers a wide range of different accommodation all across the world, you can sort by cost, reviews or location so it's really handy to find somewhere close to you,
They have a wide range of different accommodation from villas and resorts, apartments, guest houses and Bed & Breakfasts.
As well as hotel bookings Expedia.co.uk also have great deals on flights, car hire and holiday rentals.
Airbnb has some great places to stay all over the world and you can end up staying in some really quirky places that you might not normally find on other traditional accommodation booking websites.
For example, I stayed in this cool Yurt in the Peak District through booking with Airbnb.
If you've not tried Airbnb before then you can get £25 off your first booking by using my referral link, simply click here, sign up and get searching.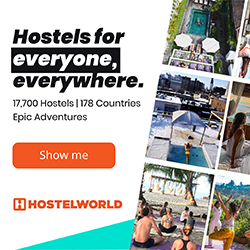 I have stayed in hostels all over the world using Hostelworld, they are really easy to use and you can find some perfect budget accommodation for your trip. Hostelworld has a range of low-cost accommodation and whilst they mostly have hostels, there are also other accommodation options, including cool hotels and Bed & Breakfasts too.
Hostels don't always mean staying in a dorm room so if you want some privacy you can search for private rooms too.
If you click on the link below you can read reviews about some of the hostels and bunkhouses I've stayed in, including Friends Hostel in Budapest. YHA St Paul's in London (a fab location) or even one of the friendliest hostels I've stayed in EastSeven in Berlin.
How to Get There? – Transport
Flights
Skyscanner – Useful for checking out the many airlines that fly to your destination. And of course the best prices!*
UK Transport
East Midlands Trains (UK) – Perfect for booking train tickets in advance to save your pennies. Plus no booking fee!
National Express (UK) – Coach trips all over the UK. Great as they run directly from the main airports too
What To Do? – Tours + Experiences
Tours
Northern Lights Photo Tour (my photo above) Sweden – Lightsoverlapland.com
GAdventures – I am a big fan of GAdventures and I have booked many trips with them (East Africa, Tour du Mont Blanc, Inca Trail, Amazon & Galápagos Islands).
Intrepid Travel – Booked (Annapurna Circuit Trek), Nepal really impressed how important responsible travel is for them. Even given our own cotton bags on our trip.
Book with Viator for great deals and things to do!
What to Take? – Travel Gear + Insurance
Photography
Jessops Cameras – I am a regular at my local shop in Nottingham in the UK.
Jessops Photos – For all your printing needs. They do some great photo books which make a lovely souvenir for all your travel photos.
I also buy a lot of my extra Camera equipment from Amazon.com
(including my tripod, camera clicker and memory cards)
Travel Insurance
InsuranceWith – Offers travel insurance for those who have a medical condition. You never know what life is going to throw at you. But this company still take care of you on your travels.
Useful Travel Products
Sigg Hot and Cold – This is the perfect hiking flask, great for taking hot drinks out on those cold hikes. It's also fantastic for travelling to colder countries too to save money during day trips as you already have a drink with you. I used a lot on my Iceland trip and was very glad for a drink to keep me warm 🙂
Other Useful Travel Sites
Fit for Travel – Health advice and tips. They also recommend vaccinations you should consider. Search under Destinations to find tips and advice for where you are travelling.
Foreign Travel Advice – Latest travel advice for each country. Includes safety and security tips, plus visa requirements, travel warnings and health.
Pinterest – Loads of great ideas and inspiration for your next destination. You can find me on Pinterest at Becky the Traveller
Trip Advisor – Just gives you peace of mind for where you are booking. Plus loads of great ideas when you're travelling