Who are Go Campers Iceland and why should you opt for camper van life on your Iceland trip?
Iceland is known for being an expensive country to travel around. One way to reduce costs is by combining accommodation and transport by hiring a campervan with Go Campers Iceland for a cheaper option.
Hiring the Go Campers campervan for your trip gives you the freedom to explore beautiful Iceland whenever you want (including 2 am!)
If you, visit Iceland in the summer, where the sun doesn't go down until nearly midnight the campervan allows lots of flexibility. And of course, have the odd afternoon nap when needed!
Go Campers Iceland have campervans to suit all needs
Go Campers Iceland have campervans to suit all needs. I opted for the manual Go SMART Campervan, designed for two people. Travelling in Iceland on a budget means compromise.
And although the three-person campervan offered more space the Go Smart campervan suited my 10-day road trip around Iceland.
Keep reading for my full Go Campers Iceland campervan review, including the good and the bad from camper life!
Go Campers Review – Hiring a Campervan in Iceland
How to book with Go Campers Iceland?
The booking process for hiring a campervan with Go Campers is straightforward.
Go to the website and complete the online booking form. You'll need your driving licence and payment details to hand. It gives you options for a variety of extra items. Ranging from sleeping bags to power inverters.
But don't worry you can select these when you pick your camper up.
Within a few minutes, you'll receive your confirmation email from Go Campers. And that's it, you're all set for your big Iceland adventure.
What is included in the Go Campers Campervan Hire price?
The rental cost of hiring a campervan in Iceland with Go Campers is based per day and includes unlimited mileage.
Good job, as I clocked up 1,926 miles/3,101 km over the 10 days. For me, it meant I had no concerns about adding in all the extra side trips along the way (and there were a lot!)
Also included with the hire of the campervan, are the following items
Gas stove (gas not included – see below)
Cutlery, bowls, plates and cups
Saucepan, frying pan and cooking utensils
Water container (20 litres)
Mattress, pillows and blanket
Free extra driver
Fuel discount card
AUX, USB and Bluetooth connection
What paid extras are available with Go Campers Iceland rental?
There are many extras available to choose from as part of your rental on Go Campers Iceland website. Including a camping table and chairs, tent, BBQ and GPS. As mentioned above you can select these when you pick the camper up.
Here are the extras we chose when hiring our campervan:
Iceland Camping card (149 EUR/ 170 USD)
This card allows you to stay at any one of 42 campsites around the whole of Iceland's Ring Road.
Go Campers Iceland provided us with a booklet that detailed all the campsites.
Sleeping bag (20 EUR/ 23 USD)
I had my own sleeping bag but my travel buddy hired one.
Unfortunately, the zip was broken but Go Campers provided a full refund.
Power inverter (20 EUR/ 23 USD)
This was the best thing we purchased for our trip.
It meant we could keep both our phones and camera batteries fully charged. And I used my camera a lot!!
Cooling box (15 EUR/ 17 USD)
Although the temperature in Iceland didn't go much higher than 14 degrees, the cooling box was really handy to store all our food in.
And of course, helped reduce the costs by not eating out all the time.
Large gas canister (15 EUR each)
We cooked most mornings and nights, however only used 2 of our 3 gas canisters.
Go Campers kindly refunded the unused canister on returning it with the campervan.
What is it like Sleeping in the campervan?
My main concern when I initially looked at the photos on the 'Go Campers' website was whether I would have enough space to sleep. I was pleasantly surprised once I'd picked up the van.
The pillow provided was a little thin for my liking, but since they also provide a blanket I used this and had a very comfy sleep.
Flowery curtains are in place at the front and back of the campervan to make your sleeping area private. Although for Iceland's summer months the light colours did let the sunlight in.
Just remember to bring an eye mask and you'll be fine.
What storage space is there in the campervan?
At first glance, you might not think there is much storage in this campervan.
But actually, it had many hidden areas!
The back had a great storage area, with pull out boxes to store dry food and cooking equipment. It also included a pull-out table, which came in very handy providing shelter from the wind when cooking between the van doors.
It was also perfect for stopping and preparing sandwiches for lunch.
At the front, there's plenty of space to keep your maps and small items. And there was a top storage area above our camper seats which we didn't find until day three! During the daytime, we used the sleeping area for storing our bigger bags.
And moved them to the front seats at night time.
Do you need a 4WD for driving Iceland's Ring Road?
Although our campervan was a 2 wheel drive, the vehicle was more than able to deal with the varying road surfaces. You'll drive on a few gravel roads whilst you in Iceland.
And as long as you slow down when the road changes you'll have no trouble.
In winter, it's a completely different experience with snow and ice to contend with. Be sure to chat with your rental company to make sure you have the right campervan to suit your needs
You might like to read: Tips for driving in Iceland
The Iceland Campervan Experience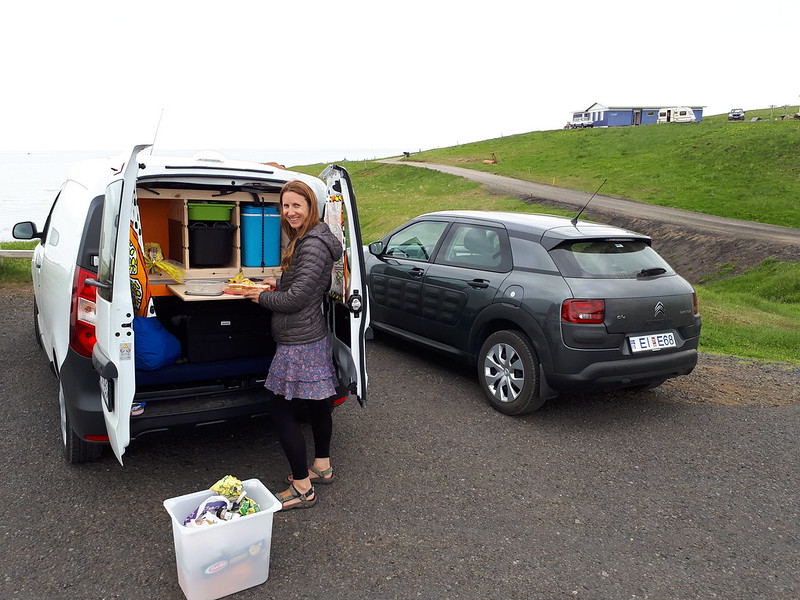 Overall, I found my camper rental experience with Go Campers Iceland to be very good.
I was impressed with the quality of the campervan including the cleanliness and equipment included. It's great how the vehicle is full of fuel when you pick it up so it means you can start your adventure straight away.
For me having the Go Campers campervan really made my Iceland trip a very special and memorable one.
having the Go Campers campervan really made my Iceland trip a very special and memorable one.
The best thing was being able to stop off at every beautiful spot on Iceland's Ring Road. We didn't need to worry about where we were going to eat or sleep. Simply enjoy the moment and the beauty that I will always remember as ICELAND.
For more information about campervan hire or to book your rental for your Iceland adventure simply click here www.gocampers.is
Are you planning on hiring a campervan in Iceland?
Or would you like to know more about my review of my rental with Go Campers Iceland experience? Feel free to leave a comment below.
Read more about Iceland here
Pin to your Iceland Pinterest board
This post is sponsored by Go Campers Iceland rental company. All views and opinions regarding my rental experience hiring a campervan in Iceland are my own.

*Becky the Traveller participates in the Amazon Services Associates Programme, as well as other affiliate programmes. If you make a purchase through these, I earn from the qualifying links. This is at no extra cost to you. Read more here.