My Mount Toubkal trek was one of my Morocco highlights. After spending 4 days hiking in the Atlas Mountains and reaching the summit of Mount Toubkal  (4,167m/13,671ft). I had so many amazing photos of the trip. Although Morocco is a popular destination, not many people take on the challenge of climbing a mountain on their trip! Well, I can understand why but here I am hoping that maybe I can tempt you to take on the Mount Toubkal trek challenge.
It is not only the highest mountain in Morocco but it is also the highest mountain in North Africa. The trek begins with gradual uphill which does get steeper after a little while. Don't worry there are plenty of places to stop on route for a quick snack and water. And of course, to catch your breath!
Hiking in the Atlas Mountains doesn't need any technical climbing or special equipment during the warmer months. Just a good pair of walking boots and some determination to keep you going. The Mount Toubkal trek to the summit does involve some high altitude. However, over the 4 days staying in the Berber villages, your body acclimatises and you get a great idea of life in the mountains.
You can opt for a one day trip and have a flavour of the Atlas Mountains. However, I chose a 4-day hike on a group tour with  GAdventures starting from Marrakesh. This way I experienced more what the Atlas mountains had to offer, including reaching the summit. There are also tours in winter, which would be a completely different experience. Check out more trekking options here with Toubkal Trekking.
So why would I recommend the Mount Toubkal trek?
1. Away from the craziness of Marrakesh the Mount Toubkal trek starts with nature around you
2. Friendly mules to help on the trek with your bags
3. Mount Toubkal Trek Day 1 with stunning views after just a few hours
4. Locals open up their shops especially for you
5. First-hand experience what it's like living in the mountains
6. Mount Toubkal Trek – learning about the farming challenges on a mountain
7. The rest stops after the big uphill climbs are so worth it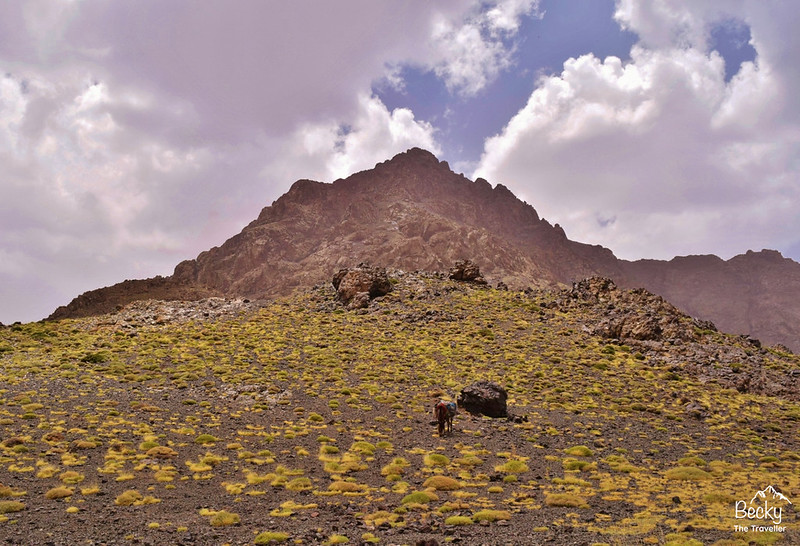 8. Exploring the Berber villages and experiencing local life
9. And getting lost in the Berber villages – it all looks the same!
10. Each day on the trek brings even more gorgeous views
11. And you get to meet the local wildlife too
12. Camping sites don't get much better than this
13. Reaching Mount Toubkal summit feels amazing
14. Would you believe it… there's a great gym at Mount Toubkal summit too!
15. So what are you waiting for……..
Read my full post here on trekking in the Atlas Mountains
Would you love to take on the Mount Toubkal trek? Ask me any questions about the trek or reaching the summit in the comments below. 
Pin this to your travel boards on Pinterest